Warning: Declaration of C_DataMapper_Driver_Base::define($object_name, $context = false) should be compatible with C_Component::define($context = false) in /home/.sites/100/site2844/web/wp-content/plugins/nextgen-gallery/products/photocrati_nextgen/modules/datamapper/class.datamapper_driver_base.php on line 744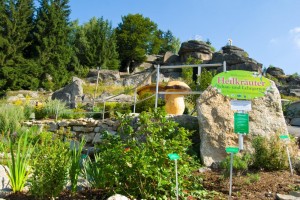 Bei der Schaffung des gemeinsamen neuen "Heilkräuter Schau- und Lehrgarten" 2008 wurde besonders auf die Wechselwirkung der Kräuter geachtet. Der auf 911 Metern Seehöhe befindliche Kräutergarten direkt in Bad Traunstein, wird von den Kräutertanten liebevoll gehegt und gepflegt.
Er liegt am Fuße des Wachtsteines zwischen natürlich vorkommenden und angelegten Steinen. Ebenfalls wurde ein kleines Biotop angelegt. Dadurch finden die unterschiedlichsten Pflanzen und Kleintiere einen für sie sehr gut geeigneten Lebensraum.
Führungen durch den Kräutergarten
Genießen Sie die Vielfalt der Kräuter und lassen Sie sich von den Düften verzaubern. Geschulte "Kräutertanten" (ent)führen Sie auf Wunsch gerne in die Welt der Kräuter. Bei der ca. 1 ½  stündigen Führung erfahren Sie alles über die Kraft dieser kleinen Helfer.
Führungen gerne ab ca. 10 Personen nach Vereinbarung.